Here's another vintage crochet pattern advertisement for you from the Springville Herald. I'm glad I missed 1941 and its frilly, feminine neckwear. Then again, when I think about what's making fashion news this season…. scroll down to what I'm talking about.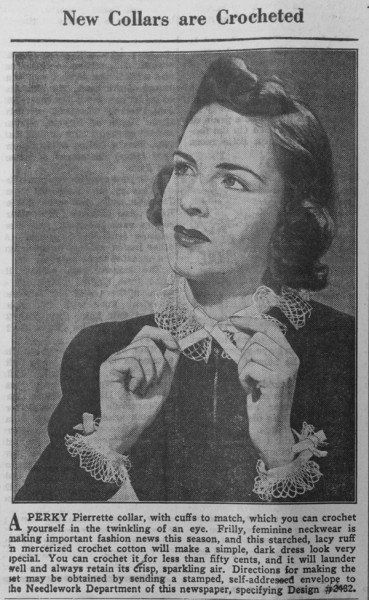 New Collars Are Crocheted
A perky Pierrette collar, with cuffs to match, which you can crochet yourself in the twinkling of an eye. Frilly, feminine neckwear is making important fashion news this season, and this starched, lacy ruff in mercerized crochet cotton will make a simple, dark dress look very special. You can crochet it for less than fifty cents, and it will launder well and always retain its crisp, sparkling air. Directions for making the set may be obtained by sending a stamped, self-addressed envelope to the Needlework Department of this newspaper, specifying Design #2482.
Okay, now here's what has happened to crochet fashion trends after 70 years.
[via Fabsugar Australia]
I am not sure which one is worse. As much as frilly frilly makes me get all itchy, this dress (?) makes me think that the designer had a love-hate relationship with her granny's bottom-of-the-heap afghan.