It's our first contest and giveaway! Woohoo! All you have to do is come up with a caption for this vintage Valentine's day card. Leave your entry in a comment below.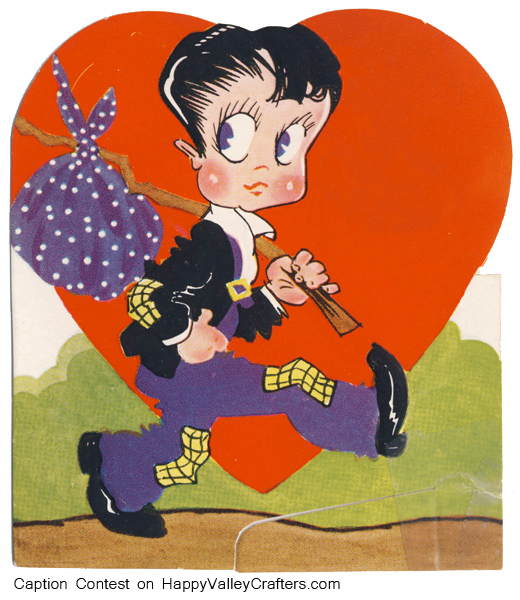 Bonus points if you edit the image to include your caption, and even more bonus points if you blog about your entry and this contest (be sure to link to those in your comment).
The best entries will be featured in a post on Valentine's Day, when the original caption of this vintage Valentine will also be revealed.
Who can enter? Anyone who leaves a comment by February 12 14 that isn't spam. You must live in the United States to win the prize.
What's the prize? The original valentine! Yes, we will send you, via snail mail, this vintage beauty from Dame Toadstool's personal collection. It came from an antique store in Salt Lake City. This prize value is an astounding $5, but regretfully the winner does not have the option to take a cash equivalent.
How will you choose a winner? The small circle of "fine" ladies behind Happy Valley Crafters will judge the contest entries based on their creativity and humor. The winner will be chosen subjectively.
How do I pander to the judges? Make it snarky, sassy, and rife with innuendo.
That's it! Good luck to you and your creative captioning.