Fewer things are more important to us than pimping the hell out of our very own Happy Valley Crafters. Granted, we haven't been doing a ton online lately, but things are starting to come together after a collectively crappy/busy/fire-and-brimstone summer.
Exhibit A: The poster promoting an embroidery workshop run by our very own Cotton Floozy! Who is now officially an "artist."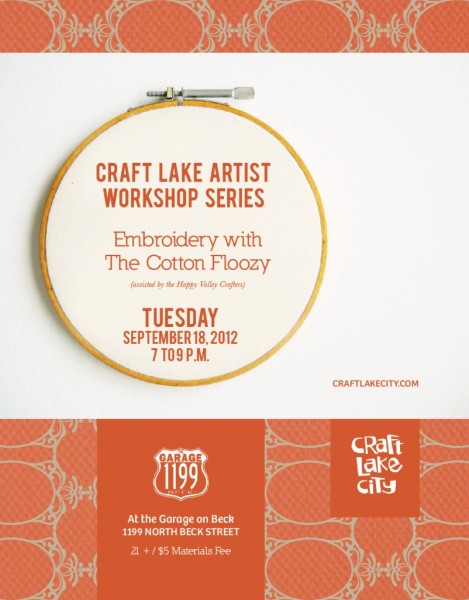 The awesome people of Craft Lake City, a cool summer festival in SLC where the Flooze shamelessly flashed her wares to people walking by her booth, identified her talents and made this happen.  About a thousand people showed up (okay, maybe more like 40) at The Garage on Beck bar just north of downtown Salt Lake to learn embroidery, drink beer and eat $1 tacos. It was awesome. I had no idea that bars that big existed in Utah!
I showed up late, as I do, to assist as part of Happy Valley Crafters. Can you believe that Floozy brazenly promised that we would be there without asking us first! I mean, of course we would go to support her and help out. But now we know that Floozy shoots first and asks questions later.
In this case, though, I'm glad she did. And who knows, maybe we'll even see Craft Lake City expand their workshops and hold them down south in our neck of the woods. If not, well… we're just going to have to do something about that ourselves.
Utah County represent. (Okay, how many of you actually understood that gangsta reference? Urban Dictionary, let me show you it.)
P.S. Special thanks to Dorothy for creating the cool Utah Craft Watch banner at the top of this post! We'll use it for posts, like this one, that in-depth craft reporting along the Wasatch Front.